It launched in 2009 and was acquired by Facebook in 2014. Recently, WhatsApp has been gaining popularity for its encryption features, which make its chats more secure than others.
WhatsApp states on its website, "From day one, we built WhatsApp to enable you to stay in touch with friends, share essential information during natural disasters, reconnect with separated families, or seek a better life." WhatsApp allows you to share some of your most personal moments, which is why we built it with end-to-end encryption. Having your communications end-to-end encrypted will prevent your messages, photos, videos, voice messages, documents, and calls from falling into the wrong hands."
What is the actual security of your communications?
Read on to learn what WhatsApp actually is, if it's safe, private, and secure, and if you should be worried that your WhatsApp information could get hacked.
WhatsApp: What Is It?
This free messaging app and voice-over-IP service are also known as WhatsApp Messenger. It was launched in 2009 as a free messaging service for international communication. After being acquired by Facebook in 2014, it became more popular among businesses and private entities rather than just international conversations. The platform is used by about 1.5 billion people worldwide.
WhatsApp lets users send and receive totally encrypted text messages, voice messages, voice, and video calls, as well as share locations, documents, images, and other messages with the added safety measure of end-to-end encryption.
It means that, unlike most other apps, like Snapchat for example, which definitely keeps a record of all your selfies somewhere in the Cloud, WhatsApp does not store any of the messages sent on its own servers. However, at the moment the messages sent can be viewed only by the person who sent them and the person(s) they were sent to.
Only the sender and the recipient of a message can see the contents of end-to-end encryption. In addition, this applies to all calls, messages, and files exchanged on the app.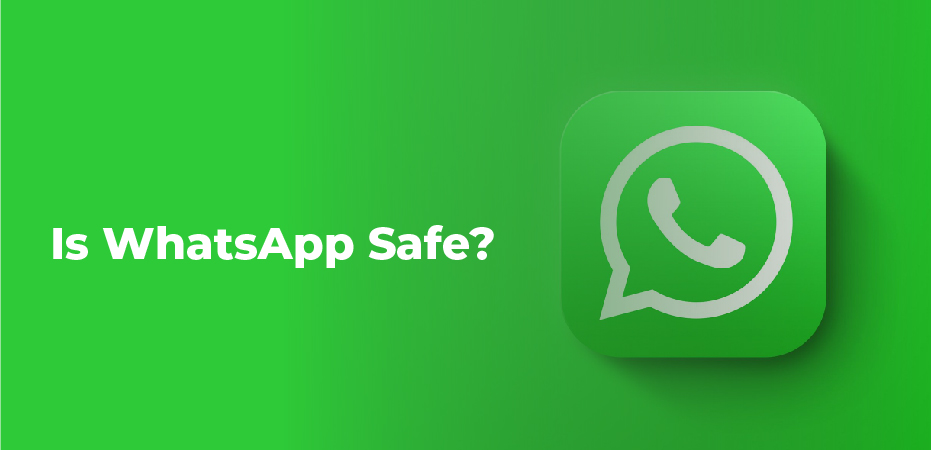 Is WhatsApp Safe?
WhatsApp has earned a reputation as safe, secure, and private due to its end-to-end encryption feature. Does that hold true?
WhatsApp is inherently safer than other messaging apps since it uses end-to-end encryption. You can use Facebook Messenger, Instagram Messages, Snapchat, and even regular iMessage. However, it isn't foolproof either…
It is important to remember that WhatsApp still asks for your contacts when you set up an account, even if your files and messages are encrypted. However, despite its encryption measures, your personal information is still at risk. Sure, it is lower than most, but it is still at risk.
WhatsApp also tracks the amount of time you spend on the app. WhatsApp still aggregates certain information about how you use the app, even though your files are encrypted. What gives? I guess all apps do that.
Is WhatsApp Private?
WhatsApp is filled with features that make it private – the end-to-end encryption means that messages and file exchanges are private between the sender and the receiver. Other than one exception, WhatsApp does not store any messages on it servers.
Messages that have not been delivered. Since WhatsApp uses WiFi to send messages, sending any message – including an international one – is free since it relies on an internet connection, not a cellular connection. However, if a message fails to send (for whatever reason), it will be stored on WhatsApp's server… but only until it is delivered.
The service also offers privacy settings that can be customized. It also includes customizing your profile's visibility so others can see if you are active or not. However, WhatsApp is owned by Facebook. The app tracks how often you use it (and for how long), and it shares this information with Facebook.
Does this information remain private? No. No app is truly private.